Carrie Bradshaw may know shoes, but Shien-ru Tsao knows bags. Eco-friendly bags.
New York – a bustling city with millions of people. Every day, tons of food are consumed and tons of trash are thrown away. And why Elizabeth, you may ask, should I care about the eating and trash habits of a bunch of New Yorkers? Well, here is the linking factor: Bags. New Yorkers use upwards of 23 billion plastic bags a year, but just this past March the state finally issued a ban. However, with the prioritization of pandemic related efforts, New York has decided not to enforce the ban until June. Yet, even before the state took action, there had been innovators who decided to take matters into their own hands. One of these is Shien-ru Tsao, the founder of Commit To Green. 
Commit To Green is an environmentally oriented social enterprise, focused on designing and manufacturing a variety of products, such as bags made out of a plant-based resin, to reduce landfill and educate. Currently, they are a part of the Grand Central Tech-Hub, a residency program for early-stage start-ups in NYC.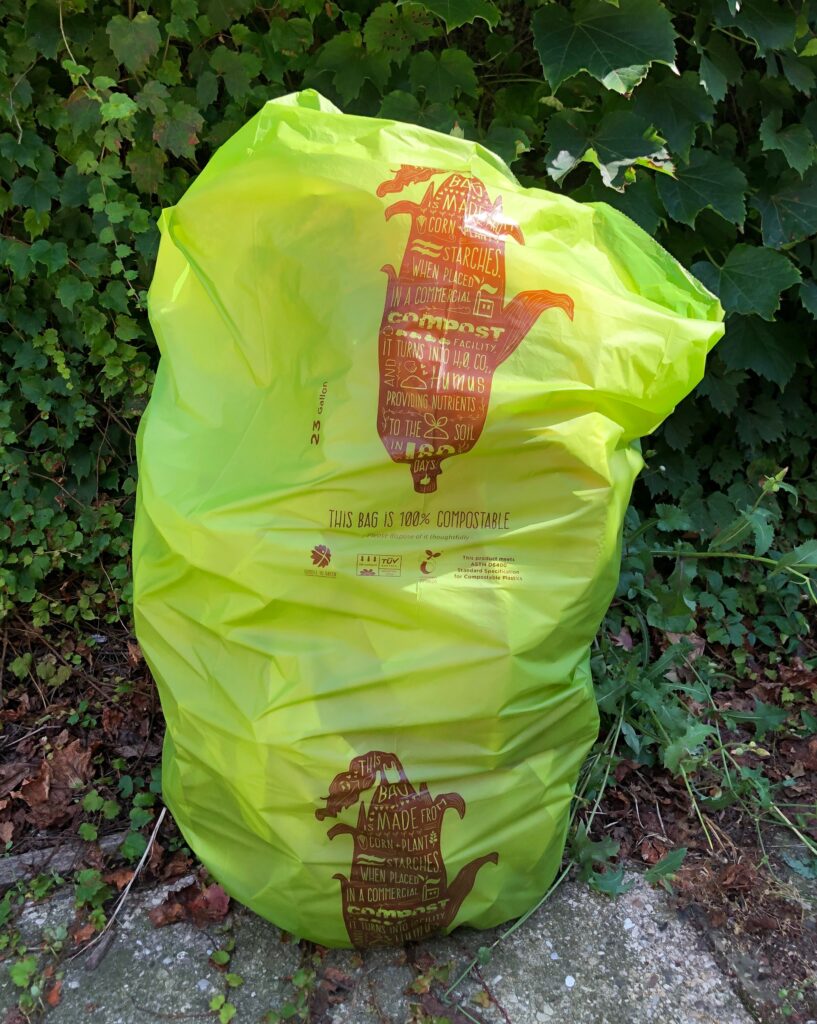 Shien-ru has always been motivated to create by passion, taking ideas and turning them into marketable products. Her previous entrepreneurial ventures include pet-themed stationary for pet lovers (when pet obsession was all the rage), a fashionable accessory to help women keep their pants inside their boots, and a social enterprise to educate students on eco-friendly entrepreneurship. Shien-ru's graphic design background makes having an aesthetically pleasing product a priority when working on something new. This can be seen with Commit To Green's bag design – it's brown and green, it SCREAMS eco-friendly! The bag also comes equipped with eye-catching visuals, and information on how to properly compost the bags so they do not end up contributing to landfill.
When speaking with Shien-ru, I was curious to hear how she started Commit to Green. There were, needless to say, a lot of hurdles when attempting to create a product aimed to replace something as widely manufactured (and quite profitably so) as the plastic bag. Shien-ru wanted to use someone domestic, yet manufacturer after manufacturer turned her down, or wanted her to produce bags in the millions (and pay for them) which was not something she was ready to do in the early stage. She simply wanted someone who would let her make a small batch to sort out any kinks. So, she turned to LinkedIn and ended up connecting with someone from Asia who was willing to make a small batch of these plant-based resin bags.
Once the bags were finally made, they had to be put to the test. So, Shien-ru turned to her biggest supporters — her parents, who had just relocated to Illinois to take over a new restaurant. Shien-ru considers herself a kid of the restaurant industry, and this came in handy when her parents agreed to replace their regular takeout bags with Commit to Green's compostable ones. The experiment proved to be a success, and once again she felt grateful for her parents, who were supportive of her entrepreneurial ventures, despite there being no guarantee of success and stability.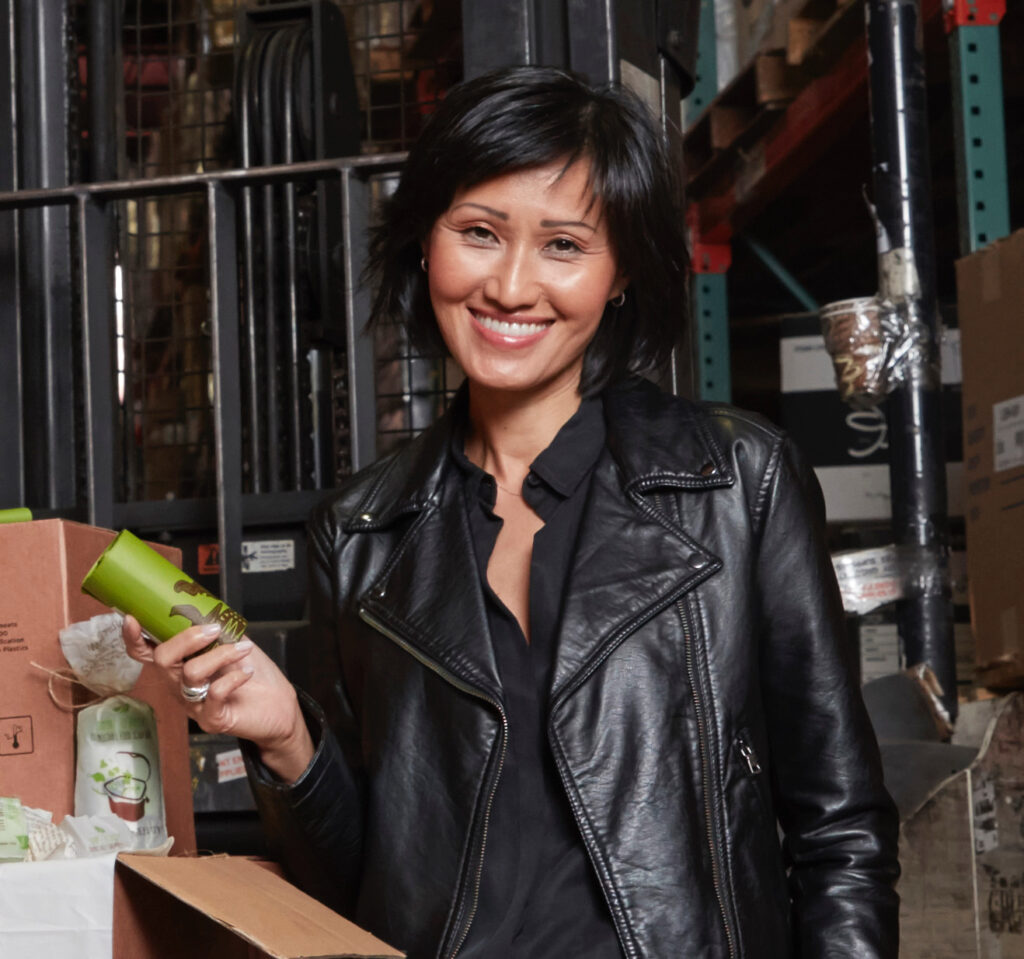 I was curious to hear if being a female founder in NYC proved to be a challenge or a blessing. As a "minority female in Green," Shien-ru said she fortunately does not feel disadvantaged. She takes any opportunity that allows her to "be a contributor at the table." In general, she believes that female founders have to work harder to prove themselves, but, their time is coming, and through their actions, current female entrepreneurs should strive to set the pace for others. "Female founders sometimes get a bad rep, but it's important to remember that just like with males, every founder is different."
With COVID-19, Commit to Green is using this time to revamp their website and to think about business going forward. Even before the pandemic, their goal for the future was to focus on education and transparency – something their products already embody through the informational visuals included on the bags. Additionally, as we move toward a new normal, Commit to Green aims to achieve more widespread adoption of their bags, as their main focus has been predominantly on businesses.
For Shien-ru, it's been interesting to see online sales increasing amidst this pandemic. It seems that people still care about the environment even if it means spending a little extra for it. The adjustment of practices due to COVID-19 has brought light to a lot of issues, as the lack of activity has led to environmental improvements. This has sort of been a wake-up call to many people about the importance of making changes, so it makes sense that some are taking steps to become more environmentally-conscious.
TLDR: Commit to Green is a cool environment-oriented start-up focused on creating aesthetic products to educate, increase transparency and reduce landfill, with a talented founder, Shien-ru Tsao.
My biggest take-aways from speaking with Shien-ru, including tips for aspiring founders:
1. Always go the extra mile, eventually the right person will notice and you'll get your opportunity.

Commit to Green's focus on having educational infographics is one of the ways Shien-ru embodies this.
2. Work on having a good work ethic and don't think about the what-ifs too much.

A good work ethic and not getting caught up in the "what-ifs" has helped Shien-ru move quickly and be able to pivot when necessary.
3. Stay current and research the market. Create "disruptive" ideas and take them to market.

Shien-ru started her paper-goods and pet accessory companies just before the luxury pet world exploded.
4. Make sure you're passionate about what you're working on. 

When looking back, Shien-ru noticed that each new company she created focused on what she was passionate about during that time and how it connected with the state of the world. 

Find how something resonates with you and put your spin on it.
5. Timing is everything – if you're reading about it now, it's already being done.

If you can somehow come up with your own concept of "it" in a different way however, you could still do something amazing.
For more information on Commit to Green:
Visit their Website, or find them on Instagram, Twitter and Facebook!
__
Information on New York & Plastic Bags was taken from:
https://www.dec.ny.gov/chemical/50034.html
https://gothamist.com/food/enforcement-new-yorks-plastic-bag-ban-delayed-june